What's Special about KZZT?
---
The GENUINE CLASSIC ROCK on 105. 5 FM KZZT is the soundtrack of the baby boom generation ... better known as the money demo. We play the greatest rock songs from 1970s and 80s, plus a few from the early 90s. The format is freshened by daily features, themed weekends, specialty programs and spectacular promotions.
Led Zeppelin

Pink Floyd

AC-DC

Eric Clapton

Van Halen

Tom Petty

ZZ Top

Rolling Stones

Boston

U2

Aerosmith

Foreigner

and more ...
We also mix in the best bands from the early 90's like Pearl Jam, Nirvana and Stone Temple Pilots. And when classic artists like Tom Petty, AC/DC and Bruce Sprinsteen release new albums, we give our audience a taste with "Instant Classics." The Genuine Classic Rock format on KZ-105 touches the lucrative "Baby Boomer" market with an emotional connection not found anywhere else.
KZZT's Classic Rock personalities deliver good time rock 'n' roll with an emotional spin, relating to current events and encouraging audience interaction, both on air and in cyberspace. We're always getting listeners involved at every opportunity! We play plenty of time tested music with just the right mix of news, sports and weather information.
The KZZT Classic Rock format is fun to listen to and attracts a broad spectrum of 25-to-54 year-olds who still pack stadiums to see their favorite bands perform. This all-important, adult audience includes both young consumers building their careers and financially established, mature listeners seeking investments.
Special programming on KZZT delivers exciting entertainment and special advertiser sponsorship opportunities. We feature both Daily and Weekend specials and much more.
KZZT is a regional 50,000 watt tall-tower FM facility that broadcasts in digital stereo 24-hours a day at 105.5 MHz. In addition, all of our studio's and production facilities feature digital state-of-the-arttechnology.
A large listening audience, advertising that sells your products and services, and expert sales advice on how to use it. When you compare coverage, demographics and overall investment, you'll discover we're the best advertising vehicle available in the area.
Simply put ... KZZT rocks and delivers results for your advertising investment!
---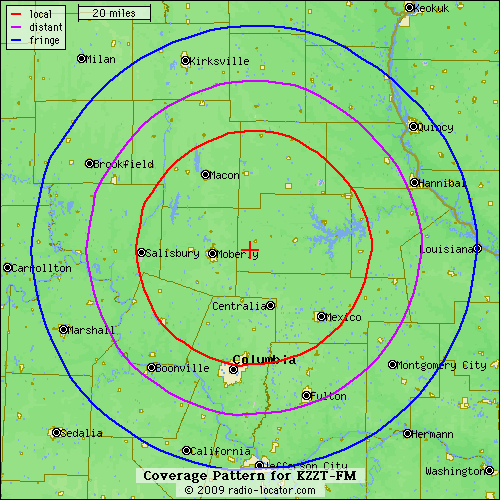 KZZT 105.5 FM is Mid Missouri's Home of Rock 'n Roll!